When the morning takes you by surprise!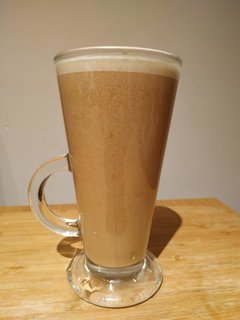 When I started reading about Keto diet, my first thought (concern) was that I can no longer have my coffee latte in the morning. Mornings are always busy in our house, get the hair done, sort out the packed lunches, feed the birds, check the school and PE bags and the 'to do' list sometimes never ends. When the alarm goes of around 6, only the thought of having my coffee latte at home is what makes me function. I certainly wouldn't want to miss having it.
Well, for more than 10 years my coffee latte was either from my Tassimo machine or making Espresso and mixing it with semi skimmed milk. But lately, I have grown out from my Tassimo capsules as I no longer like their taste and find the lattes too sweet.
Every morning, in MyFitnessPal app, I was logging 60 ml espresso + 250 ml semi-skimmed fresh milk, which was about 130 calories with 12.5 Carbohydrates, all sugars.
On a Keto diet, having that will take more tahn half of the carbs you are allowed… Well, initially I said that I could decrease the amount of milk, but still I wasn't happy with the taste and having all that sugar from milk.
I was very reluctant of using unsweeted coconut or almond milk, as I tried it before and the taste was not the same and my joy of drinking the morning coffee latte was fading away..
After reading a lot about keto friendly coffees, that are not just plain coffee, I started trying multiple bulletproof coffee recipes, and one day, amazing day, I manage to create a mix that I simply love and it's even better than my original simple coffee latte.
Ingredients
60 ml Espresso Coffee
2 tablespoon (30 ml) Double Cream/Full Fat Fresh Cream
1 tbsp MCT oil (Nature's Aid 100% Pure MCT Oil)
*MCT Oil (Medium-Chain Triglycerides) is believed to be metabolised more easily by the body than standard coconut oil. This is due to the removal of the long chain fatty acids and lauric acid. It is rapidly digested and absorped, and are thought to provide a useful energy source.
Instructions

Make your Espresso coffee as you normally do it. I prefer fresh brewed coffee.
Pour 60 ml Espresso coffee and 150 ml unsweetened almond milk in your blender.
Add 2 tbsps of fresh double cream and a tablespoon of MCT oil .
Mix them all in a blender for a minute. If in a real rush, then a good mix with the tea spoon will do, but it won't be as creamy.
Pour all themixture in a large Microwave-safe glass.
Add the glass in the microwave for about 90 seconds on full power. It all depends on how hot you want your Keto coffee latte and the power of your microwave.
Once is heated, stir and enjoy!
A single serving of keto coffee latte has 311 calories but it fuels your body with 31g of Fat and only 1g Carbs. This keto coffee latte is a fat burning coffee and it keeps me going for a few good hours. It has a lot of fat (48%) and it helps you fuel your body with the necessary amount of fat to reach ketosis, the state your body is when it starts burning fat as a first source of energy.

* The Percent Daily Values are based on a 2,000 calorie diet, so your values may change depending on your calorie needs. The values here may not be 100% accurate because the recipes have not been professionally evaluated nor have they been evaluated by the U.S. FDA.